Skip to Content
Solving Poor Indoor Air Quality Since 2019
On Point Heating and Air provides solutions to residential and commercial property owners facing heating, cooling, and indoor air quality issues. Throughout San Diego County, we have used our 20 years of combined experience to help our customers achieve cleaner air throughout their homes and properties. Poor indoor air quality is more common than you might think. If you find yourself routinely battling allergies, colds, and other issues, your home's air quality might be at fault. Fortunately, our team offers highly-productive solutions to this problem.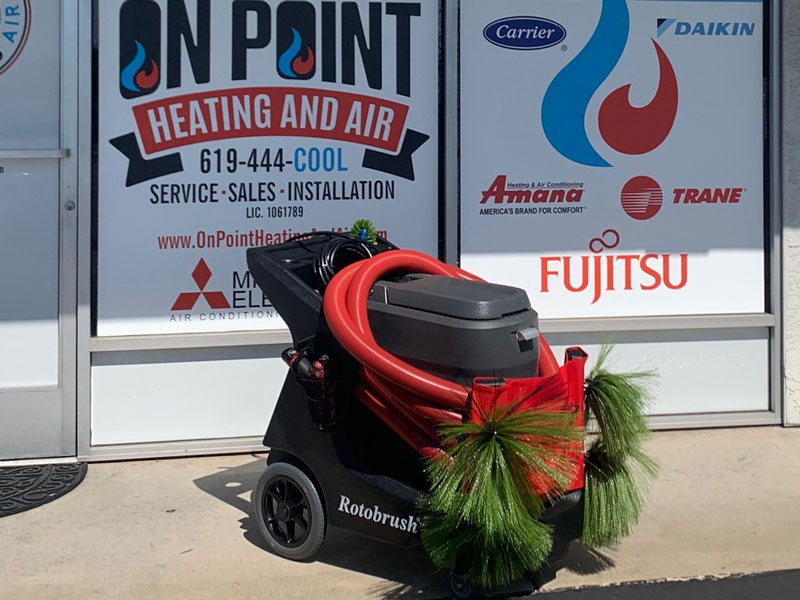 Brush Beast Machine
Effective Air Quality Solutions at Unbeatable Prices
While poor indoor air quality is common, that doesn't mean there are no obvious solutions. At On Point Heating and Air, we strive to improve our customers' lives, one solution at a time. In some cases, poor air quality begins with the ductwork found in your home or office. An electronic air cleaner or UV air purification system could effectively remove the contaminants that cause poor indoor air quality. We sell notable brands such as APCO and Honeywell, ensuring our customers have access to the best indoor air quality products possible. We also provide duct cleaning services and air filtration machines.
Don't Ignore the Many Benefits of Indoor Air Quality Systems
We can't recommend one of our indoor air quality solutions enough. Investing in a UV air purification system, an air scrubber, duct cleaning, or an air filtration machine will result in a more comfortable home or office. Your family will breathe easier and sleep better. If you run a company, your employees will take fewer sick days. Our products remove allergens and pollutants efficiently, leading to eliminated odors and even lower utility bills. Over time, you will see massive returns on your initial investment in your purification system, ensuring it is something that pays dividends over the long haul.




Contact Our Team for Repairs and Replacement